Be Kitchen Confident Workshop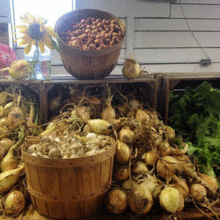 November 7, 2015 @ 10:00 am – 11:30 am Back to Calendar » 
Good health starts in the kitchen – you will learn how to change and enhance your life at a workshop with Holistic Health Coaches Karen Rigney and Shelia Emery Murphy.
Wonder How You Could Easily Convert What's in Season To What You Love to Eat?
We are passionate about food and keeping you at the top of your game!
That is why we are inviting you to the Be Kitchen Confident workshop right on the organic farm!
Hilltop Hanover – Farm To Table Fun
Learn Great Ways to Power up With Plants
Gain Real Life Solutions for Simplifying Shopping and Preparing Whole Foods
Find out How and Why to Replenish Your Good Gut Flora
Become Confident in your own Ability to Prepare Healthy, Delicious Meals.
Discover How to Incorporate the Top 5 Foods for Energy into your Everyday Life.
Efficiently Assemble Many Meals without Cooking Everyday.
Enjoy Tasting and Discussion.
Registration is required
Brown Paper Tickets Ticket Widget Loading…
Click Here to visit the Brown Paper Tickets event page.