Rescuing the Thanksgiving Side Dish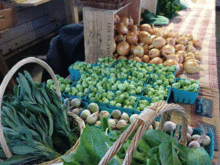 November 15, 2015 @ 12:00 pm – 2:00 pm Back to Calendar »
Tired of the same ho-hum side dishes on your Thanksgiving buffet? Fear not, Chef Maria Reina (@bellacucinamaria) will be digging into our Thanksgiving Box (for sale at the farm!)using Veggies for sale at the farm, and creating several easy and delicious side dishes for you to use at your Thanksgiving dinner, or take to a friends' home.
Some will be make-ahead and some while the turkey is cooking. It's going to be a fun afternoon of cooking and tasting.
Brown Paper Tickets Ticket Widget Loading…
Click Here to visit the Brown Paper Tickets event page.